Works-In-Progress . . . two paintings in oil
(left) Sunrise with Lobster Boat #1
a work-in-progress
#1 of 3 in a series
**********
(below) Sunrise with Lobster Boat, #2
a work-in-progress
#2 of 3 in a series
click on:
and more new paintings . . .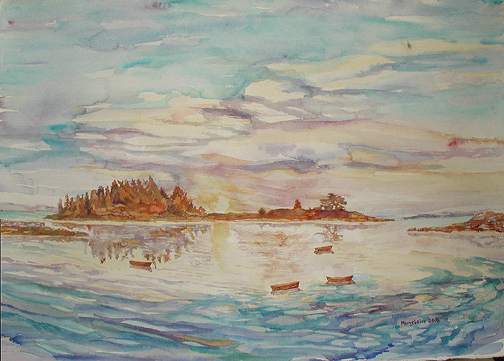 Sunrise, Brown's Island, Marblehead
watercolor on graphite, 22.5" high x 38" wide
November, 2002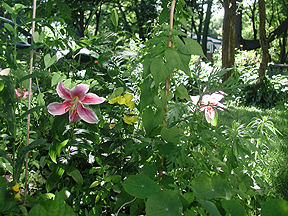 A Ramble in the Garden . . .
a photo journal of the garden's emergence from early spring up through today . . . new photos of flora, fauna and small creatures
click on
******** . . . A Ramble in the Garden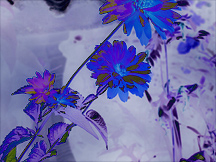 new . . . digital collages and painted photos

images abstracted from digital photos of the garden and also "painted photos" -- found images manipulated and painted digitally . . .
click on
**********
Clouds--Newbury Street, Boston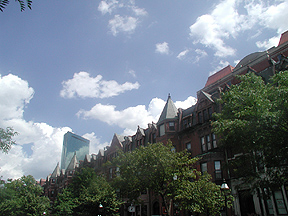 photo by Mark J. Fisher
On Friday, July 25th, Mark & I checked out Newbury Street and the art galleries . . . including the Vose Gallery, founded in 1828 . . . what a fabulous day . . . the clouds were Maxfield Parrish clouds, just like the sky in the Maxfield Parrish painting at the Vose Gallery . . . I wore red so as to blend with the brick buildings . . .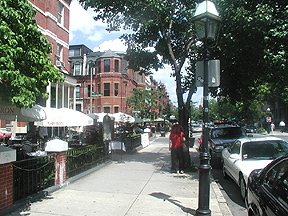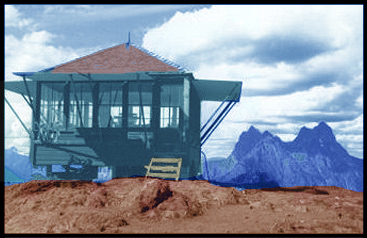 also new . . . "Desolation Pops" Selection of Haikus
by Jack Kerouac in 1956 when he workd as a Fire Station Lookout on Desolation Peak in the Cascades recently published by Penguin Poets ick on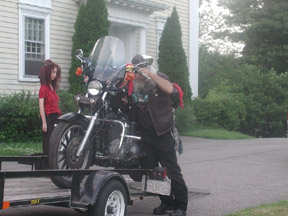 There's a biker in my garden
It's Thursday, July 24th and Peddlar,mad-dog biker and beat poet and old running-mate, rode down from Portland, Maine to hang out . . . I will be creating a Peddlar poetry site in the upcoming weeks . . .so stay tuned . . . as Peddlar says: " rock-'n-roll "
(above) Maryclaire watches Peddlar secure Harley to trailer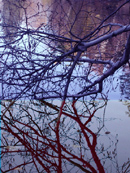 I am adding new words to "Essays, Articles and Reviews" where painters, opera singers, rock musicians, poets and filmmakers talk about their art and the creative process. . . . click on
"We need works of imagination to confirm our faith in humanity, to find hope amid the rubble of a hopeless world . . . " An Essay on the healing power of the Imagination by the Iranian woman writer in exile, Azar Nafisi.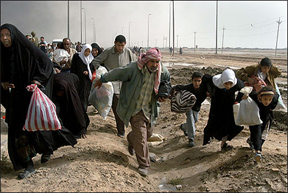 No More War!
(left) residents of Basra fleeing the city, March 31, 2003
**********
War is not new; war is the old "power over" way of operating in the world, initiated by men who have accumulated enormous monetary wealth and vast corporate and military power-- men who possess great arrogance yet who who lack imagination.
There are two webpages on this site begun in February related to the War on Iraq. "Poems Against War" is a selection of eloquent, moving, passionate poems by Arab, Iraqui, European, Japanese, Vietnamese and American poets. click on:
Also, I continue to write and edit a kind of War Diary and it is published here as the "NO MORE WAR" page with many photos of significant antiwar demonstrations --some Mark & I attended and worldwide. There are excellent articles regarding the devastating humanitarian, social, economic, and ecological consequences of this war. I include as much info as I can gather on casualties, Iraqui civilian casualties and those of coalition forces. click on:
atmospheric effects from
the Annular Eclipse
the Ring of Brodgar, Orkney
See Striking images of
the Annular Eclipse
Saturday, May 31, 2003
Click on: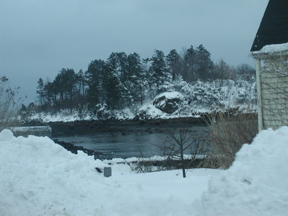 ". . . fire and ice, the artist's soul . . ."
February brought to Marblehead first a blizzard, then a fire. On February 17-18, 25 inches of snow fell in 24 hours and within days, a raging four-alarm fire consumed the historic Rogers Building on School Street .
To view the aftermath, click on
Enter content here