Archaelogy
Amphoras, HMS Sussex
Odyssey Marine Exploration. Archaelogical Shipwreck Excavation. Current projects include The SS Republic sunk in 1865 and the HMS Sussex, a large 80-gun English warship lost in a severe storm near the Straits of Gibraltar in 1694.
Art News and Real News Online
THE AMERICAN DISSIDENT: Truth, Wisdom, and Protest in Poetry and Writing -- In the Spirit of Revolutionary Patriots.
The Boston - Bay State Banner: A weekly newspaper of the Boston African-American community.
Global Village News & Resources.
The Navajo Times, Window Rock, Arizona.
Generator 12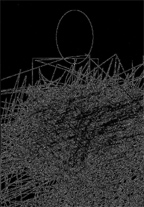 Portrait of a Poet by Shin Tanabe
Arts Journals Online -- Visual & Literary
Arts Journal: The Daily Digest of Arts, Culture & Ideas.
Blue Earth Alliance. Photography. Helps photographers pursue documentary projects about endangered environments, threatened cultures and social issues. Our board members all volunteer their time to mentor those photographers whose projects we sponsor. We want to make a difference.
CALLALOO, the African Diaspora literary journal, publishes original works by, and critical studies of, black writers worldwide.
Generator 12.2002-2003 Edited by John Byrum (USA) and Jesse Glass (Japan)John Byrum is a visual poet & publisher of Generator Press. Jesse Glass is an artist, poet, and professor of Languages and Cultures at Meikai University, Japan. Generator 12 is an evolving collection of contemporary visual and textual materials situated in and around the poetic and visual arts. (right: "Portrait of a Poet" by Shin Tanabe)
Project Muse: Scholarly Journals Online, John Hopkins University.
Surrealism-USA, edited by Paul and Beth Garon, founders of the Chicago Surrealist group in 1966 with the encouragement of Andre Breton. Very active site with articles & reviews. Publishes essential surrealist poetry, literature & art by surrealists such as Franklin & Penelope Rosemont.
SWITCH,a new media art journal of the CADRE Laboratory for New Media of the School of Art and Design at San Jose State University. Published on the Web since 1995. Fosters a critical viewpoint on issues and developments in the multiple crossovers between art and technology. SWITCH questions, analyzes, reports and discusses these new art forms as they develop, to encourage dialogue and collaboration with others.
ROD BRADFIELD

911 GALLERY
Allinson Gallery, since 1976. American, British, & Continental fine prints 1880-1960; paintings, drawings & watercolors by printmakers and by Connecticut impressionists; Japanese woodblock prints (Ukiyo-e).(860)429-2322.
David Blandy Hollow Bones 2002
Danielle Arnaud Gallery
Art Technology Boston. A Consortium of small nonprofit new media organizations - Boston CyberArts Festival, Mobius, 911 Gallery, Berwick Research Inst., [do while] studio.
Danielle Arnaud Gallery, London, founded 1995. specializes in the work of young international artists. Family Business thru 22 Nov 2003, at Pitzhanger Manor House Gallery, London.
Bitforms Gallery
Bitforms Gallery is devoted to exploring the realms of digital art. Open Tues-Sat, 11AM-6PM 529 West 20th Street 2nd Floor. New York, NY. Barbara Nessim "Black Truths, White Lies" thru Nov 29th.
Brighton & Hove, UK art gallery listings for Sep-Oct, 2003.
JESSICA GRACE BROOKS
THE CHASE GALLERY
Catto Gallery, London. Tim Blake, "Big City Attitude" exhibit thru July 31st.
Clark Gallery. Lincoln, MA. Exhibit: Megan Cronin, Sep 2 - Oct 2.
"HOT SPRINGS"
FRANK TAYLOR
Courcoux & Courcoux Contemporary Art,Stockbridge, Hampshire. Paintings, sculpture and ceramics by over 30 leading British-based contemporary artists.
Erlich Gallery 96 Washington Street, Marblehead, MA (781) 631-1202.
T-Sat 10:30-5:30, Sun 12-5. February 8-March 31:Three Personal Views: Land and Architecture: Paintings by Diana Lyn Cote, Anthony Hugh Thompson, and John Webster. Ongoing: twentieth-century masterworks, sculpture, and fine crafts including hand blown glass, furniture, and ceramics.
HANNAH WILKE
ROBERT FELDMAN GALLERY
Robert Feldman Gallery. Soho. Hannah Wilke, thru August 31st.
Galleriescanada.com -- current and future art gallery showings in Toronto, Canada plus info on local art galleries.
JOHN OKULICK
NANCY HOFFMAN GALLERY
Greenwich Printmakers, London, founded in 1979. Provides a permanent display of members' work in their own gallery. Works on show are limited edition artists' etchings,lithographs, relief & silkscreen prints.
Barbara Krakow Gallery, Boston. Exhibit: 4 to Look At. Thru Sep 6th.
SCOTT WAUGH
THE LEITH GALLERY
JEFF BREOWS
ROBERT MANN GALLERY
Lisson Gallery, 52-54 Bell Street, London. New Works by Tony Oursler through November 1 '03.
Robert Mann Gallery, New York City.'Jeff Brouws : American Typologies 1987-2003', Sep 4 thru Oct 11th.
Marlborough Fine Art Gallery, London. Sarah Raphael - A Survey of Work from 1994-2001 thru August 29th.
FRED YATES "A YEAR IN PROVENCE"
JOHN MARTIN OF LONDON
John Martin of London. Exhibit Fred Yates - A year in Provence, 30 Sep - 18 Oct, 2003.
REX RAY
MICHAEL MARTIN GALLERIES
Michael Martin Galleries (MMG), San Francisco & London. Exhibit: Rex Ray Opening: Thursday, September 4, 6-8 p.m. Hours: Tues., Thur., and Sat. 11 a.m.-5:30 p.m New large works including paintings, collages, and prints. Ray's "cut & paste" style is based on the concepts of form and color rather than trying to generate a specific image. By using fashion magazines, scissors, paper and glue, Ray has created collages on watercolor paper,mounted on wood supports, or some on canvas.
Louis K. Meisel Gallery, Inc. "The Home of Photorealism." Soho.
M.I.T. LIST VISUAL ARTS CENTER. Upcoming October 2nd, Michael Joo. Explores how science, religion, and the media shape conciousness and knits together the physical and the metaphysical.
MICHAEL JOO
MIT LIST VISUAL ARTS CENTER
Montserrat College of Art Gallery, 23 Essex Street, Beverly, MA, through October 10. Past Memory/Present Feeling: Work by Andrzej Jackowski, Hughie O'Donoghue and John Walker.
DELTA DIVA BY ALBERT FENNEL
OCTOBER GALLERY
October Gallery, Philadelphia, PA. Contemporary African-American art.
"The Printmakers' Peace," The World Printmakers Anti-Militarist Exhibit 2002, an online fine-print exhibit with prints by concerned fine-art printmakers worldwide, traditional and digital.
Santa Fe Art Galleries Listing.
Scott Gallery. Founded in 1986, contemporary fine art by over 30 emerging, mid-career and established Canadian artists. Edmonton, Alberta, Canada.
University of Brighton Gallery, U.K. "Images of Place:Drawings & photographs of the work of Sri Lankan architect Geoffrey Bawa. 3-18 October.
Vose Galleries of Boston, established 1841. Exhibit: Carved from Darkness, Carved from Light: A Collection of Works on Paper by Polly Thayer (Starr) (b.1904)thru August 15th.
DAVID SALLE
WADDINGTON GALLERIES
Waddington Galleries, London. Paintings, sculpture and works on paper by 20th Century Masters from Great Britain, Europe and America, Contemporary Art and Modern British Art.
Zeitgeist Gallery, Cambridge, MA. Photography Exhibit: "Art of Darkness", Sep 23 -­ Oct 5, 2003. featuring performances by Annette and Amanda.
David Zwirner Gallery, Soho, New York City. Exhibit: JASON RHOADES, "MECCATUNA" thru Oct 25th.
PICASSO MUSEUM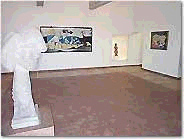 ANTIBES, FRANCE
Art Museums
***********
American Visionary Art Museum, Baltimore, MD. Works by self-taught individuals, usually without formal training, arising from an innate personal vision that revels foremost in the creative act itself." Exhibit "High on Life: Transcending Addiction" thru Sep 1, 2003.
BRUCE BEMIS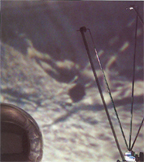 DECORDOVA MUSEUM
Sterling & Francine Clark Art Institute, Williamstown, MA. Turner: The Late Seascapes, thru Sep 7th, 2003.
DeCordova Museum and Sculpture Park. Lincoln,MA. The Annual DeCordova Exhibit, including works by Bruce Bemis', "Mending Mid-Oceanic Rift" where Bemis through the medium of film recreates the early magic of a flickering Edison-filmed train bearing down on us in a darkened theater. Thru August 31, 2003.
KAZIMIR MALEVICH
GUGGENHEIM NEW YORK
Heard Museum, Phoenix, AZ. Celebrates the vitality and creativity of Native cultures and art. The mission and philosophy of the Heard Museum today is to educate the public about the heritage and the living cultures and arts of Native peoples, with an emphasis on the peoples of the Southwest.
Hirshorn Museum and Sculpture Garden, Washington, D.C. Current Exhibit: Portraiture. Swiss artist Beat Streulis three-screen video installation of pedestrians coming and going in hypnotic slow motion at a busy Manhattan intersection and Chuck Closes complex painting of fellow artist Roy Lichtenstein represent some of the many interpretations and media contemporary artists use to approach portraiture.
Institute of Contemporary Arts, London. Art Exhibits, Performance, Film, Music Events.
MassMOCA, North Adams, MA. Presents exciting new work in all media and positions the arts as a vibrant catalyst for community revitalization. Ongoing Exhibit: Outrageous Supercharge: Hand-Painted Movie Posters from Ghana.
Matisse Museum, Nice, France.The paintings, sculptures, drawings, engravings, paper cut-outs and illustrated books, as well as objects and documents bequeathed by Matisse.
MOMA. New York City. Projects 80: Lee Mingwei, The Tourist thru November 24, 2003.
The Museum of Fine Arts, Boston. Exhibit: John Currin Selects, May 14 , 2003 - January 4 , 2004
National Museum of Women in the Arts, Washington, D.C. Insomnia: Landscapes of the Night, March 10 -Nov 30, 2003.
Norwich Castle Museum & Gallery. Exhibit: A Period Eye, Photography Then and Now. 29 Sep 2003 - 29 Feb 2004.
San Francisco Museum of Modern Art. Marc Chagall thru November 4, 2003.
24hourmuseum lists over 2500 UK galleries & museums.
U.K. Museums Guide to artist exhibits & museums throughout the U.K.
Worcester Art Museum. Exhibit thru September 21st. "Ringshout," African-American painter Richard Yarde, creates large-scale watercolors, work influenced by memory, dreams, and personal experience addressing issues of mortality and vulnerability, healing and rebirth. Yarde's conception of the body as a self-healing organism has shaped "Ringshout".
IL SEGNO TRANSPARENTE DEL COLORE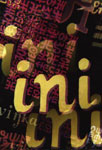 ANGELO MERANTE, 1997
Inismo Links
**************
Gabriele-Aldo Bertozzi and Laura Aga-Rossi, Founders of INISMO, an Italian avant garde literary/poetic/artistic movement, initiated in Paris in 1980. In Italian. INI! INI! INI!
Robert Ferry's INI USA website with original and new 2003 INI digital collage work by Robert Ferry, Paul Lambert, Mark Fisher, Kyle Grant,M-C Wellinger and others.
INI USA Northeast Kingdom website by M. Fisher. New 2003 INI digital collage images by M. Fisher and other INI artist/poets.
INI website by cofounder Angelo Merante. Bios and images of work by Founder Gabriele-Aldo Bertozzi, Laura Aga-Rossi, Angelo Merante and other significant founding INI artist/poets. English, French and Italian.
Art & Language
The Lisson Gallery online "Art & Language" website opens with two complex images of works which form part of an installation Homes from Homes. These works are compiled together in two wall-like ensembles. The surface of each image is a complex structure. The complexity is such as to attest to a narrative of projects and production. This surface is broken as the user enters the website through any of its individual icons. A complex set of pathways is then created. Through these pathways the user may remain within the structure or may exit and re-enter. Remaining within is also a form of re-entry. The structure is language-like and open. This is to say that an unrestricted set of autopoetic systems (self-reflexive and self-generating) may be produced from a limited (closed) set of images and texts. These systems connect to or generate narratives of artistic practice identified or identifiable with Art & Language, or they may connect to or generate things of which Art & Language has never dreamed. Click on:

Lisson Gallery presents online the new Art & Language web based index.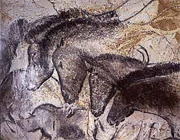 Somaly K. Hay is a Cambodian classical dancer trained from a very young age in the Royal Palace in Phnom Penh.
"AUTUMN"

BY GLORIA KAGAWA
Gloria Kagawa, painter & printmaker. Online gallery with more than 250 works of art.
Linda Kemp unique contemporary watercolours and innovative use of negative space and glazing.
Yoko Ono. Performances, exhibits, films, bio, instruction pieces, Grapefruit, works by genre.
JOHN SINCLAIR
John Sinclair. Blues & Jazz scholar and poet. American griot called "The Last of the Beatnik Warrior Poets" (Mick Farren, Los Angeles Weekly) and "The Hardest-Working Poet in Show Business" (Ben Edmonds, San Francisco Chronicle).John Sinclair's latest CD, Steady Rollin' Man has elegant Blue Note style graphics, 11 tracks and extensive liner notes from John himself, clocks in at more than an hour of music. It captures John in peak form, roaring like a lion - taking his spiritual, soulful mix of narrative poetry and activism to new heights.
WALTER WRIGHT

VIDEO SHREDDER
Archives
Art in Context. Established in 1995. Online reference library for the publication of information about artists and where to find their work. Catalogues and presents information by curators, dealers, artists & writers from around the world.
Surrealism USA was founded in 1966 by the Chicago Surrealist Group including Paul & Beth Garon, with the encouragement of André Breton and the Surrealist Group in Paris. With its wide-ranging research and uninterrupted agitation, the group is active, innovative and prolific. This Chicago-based group has attracted more and more collaborators from other cities. Radically different from other websites "about" surrealism, which often contain misinformation, this site is the voice of the Surrealist Movement itself.