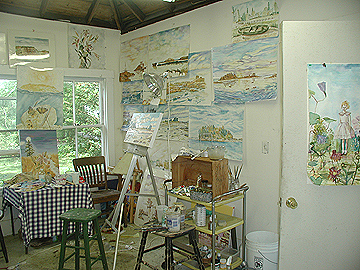 south-facing wall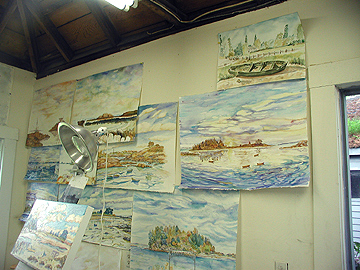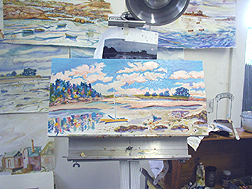 east-facing wall with windows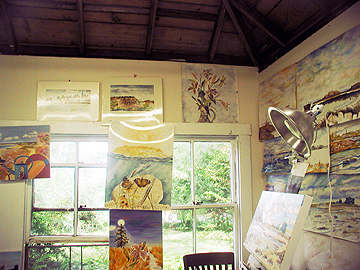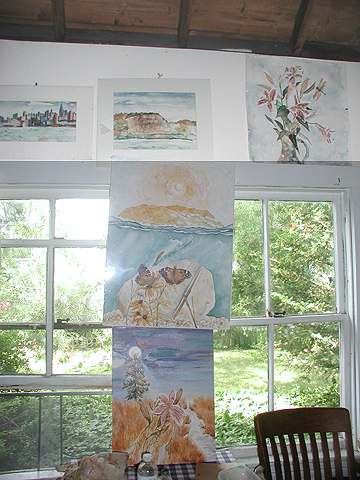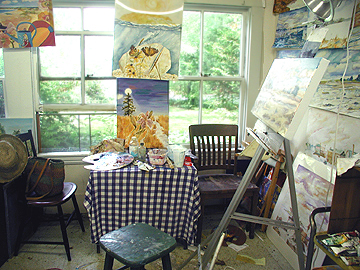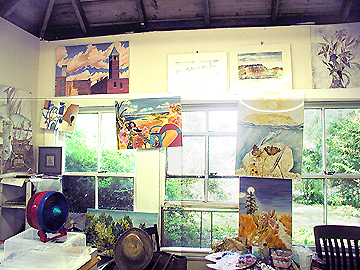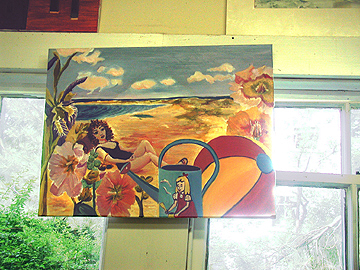 "Life is a Beach"
Self-portrait
Summer 2002
oil-on-canvas
***********
north-facing wall with windows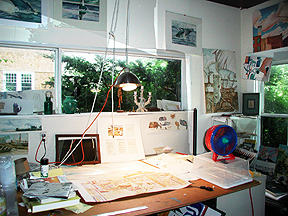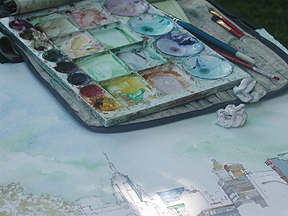 Tools of the watercolorist's trade . . . I have painted all of my watercolor paintings over the years with this palette and these brushes
. . . the simplicity, meaning "ease-of-use"
of the watercolor medium is so appealing . . .
west-facing wall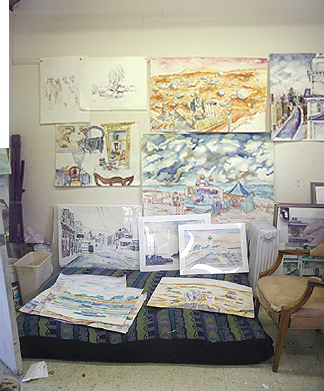 On the West facing wall, which has no windows, I display paintings and drawings from the past ten years. These two drawings are notable; the pen-and-ink drawing on the right is a portrait of myself done by Marblehead artist, Joan Hooper. For years we studied together in the same drawing class with artist Ronald Kulloway. The second drawing on the left is a group portrait of my family, Paul and Esther Wellinger, my sister Polly and myself, based on a photograph I found from one Easter Sunday in the late '60's.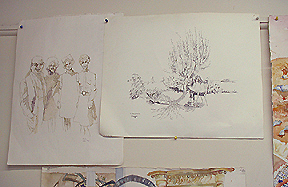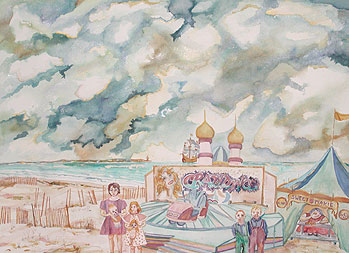 "Crazy Dance" is a large watercolor (Summer, 2002)
inhabited by figures from the childhood era, the same two girls who appear in other paintings, joined this time by two small boys (based on a photo image of two carnival urchins from the 1890's). The large shorescape is that of Old Orchard Beach, and the "Crazy Dance" carnival ride, as well, with its very dated image of Farah Fawcett.
The Crazy Dance of childhood. Looking seaward, on the horizon line, sails the ship "Half Moon", the ship I sailed on up the Hudson River in 1995. So the children are not stranded, perhaps-- and there is a way for them to leave this place.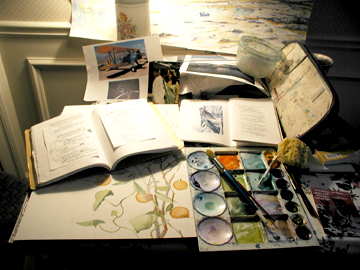 My artistic pursuits in the medium of painting as well as poetry create a collage-like workspace.