M-C reading at the Harvard Poetry Festival, May 1997.
MC READING AT HARVARD SPRING POETRY FESTIVAL 1997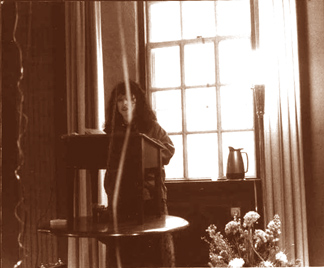 PHOTO BY MARK J. FISHER
It was an honor to be an invited reader at the 1997 Annual Spring Poetry Festival at Harvard University. I read Poem #6, from "Black Joe's Pond," The Great Blue Heron poem. The all-day event was organized by Louisa Solano, for decades the owner and manager of the Grolier , weBookshop, a bookstore established in 1927 and exclusively dedicated to poetry. Louisa is a remarkable woman who has dedicated her life to promote poetry and contemporary poets. My new husband, Mark J. Fisher, called Louisa's attention to my work. I was grateful for Mark's support, and also from my poet colleagues and friends, Peddlar and Steve Hemingway who were there to support me. Peddlar and Steve are dear friends who helped me for years during a period when I had few resources. Thanks to their support, I continued to research and write"Black Joe's Pond."
MC DISCANTING AT THE HERRESHOFF CASTLE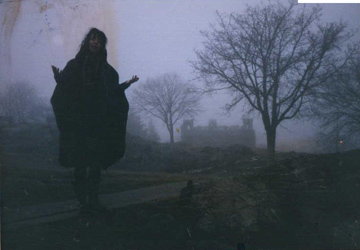 CROCKER PARK, MARBLEHEAD, MA 1998 PHOTO BY MARK J. FISHER
MC READING AT THE SUGAR SHACK, KEROUAC FESTIVAL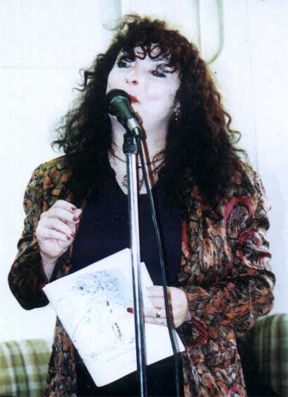 LOWELL, MA, 1999 PHOTO BY MARK J. FISHER
STEVE HEMINGWAY & M-C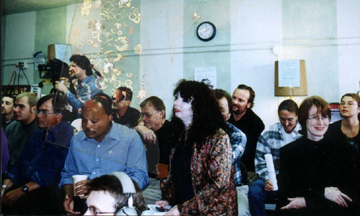 SUGAR SHACK, LOWELL, MA 1999 PHOTO BY MARK FISHER
below: M-C reading at the Old Worthen Tavern at the Kerouac Festival in Lowell, MA, 2000. Edgar Allen Poe lived at the Old Worthen for a year.
MC READING AT "THE OLD WORTHEN" TAVERN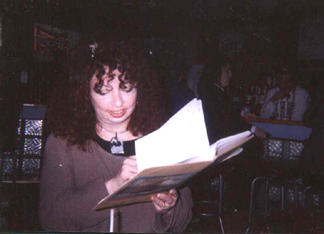 KEROUAC FESTIVAL, LOWELL, MA 1997 PHOTO BY MARK FISHER
Birthday Boys.
Mark Fisher and John Sinclair share the same birthday, October 2nd . Here they celebrate at the Annual Lowell Celebrates Kerouac! literary Festival in 1999.
More Kerouac Festival photos will be uploaded soon . . .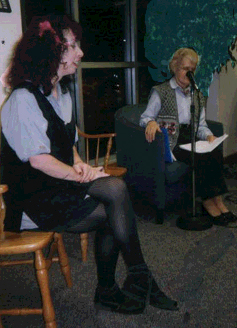 Above, As Events Coordinator at Borders Books, M-C hosted poets & writers who are not necessarily part of the literary mainstream or well-known to the public. Here, M-C with poet and painter Yala Korwin, a Holocaust survivor. Yala read from her book of very dark and difficult poems which somehow remain lyrical and filled with hope, as well as deep despair. Yala illustrates her poems with pen & ink drawings..
(below) M-C reading her poetry at Borders, 1995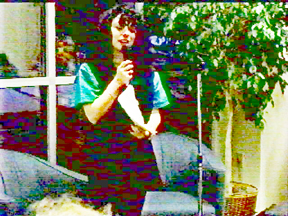 The Grolier Bookshop on Holyoke Street in Harvard Square is the oldest poetry bookstore in the country. It is owned and managed by Louisa Solano, who has dedicated her life to poetry and to promoting poets.
THE GROLIER BOOKSHOP, HOLYOKE STREET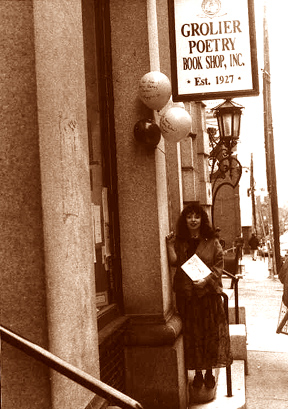 PHOTO BY MARK FISHER
The Grolier Summer Poetry Festival,
Harvard Square. left, Lloyd Schwartz &
above, Martin Espada read their work.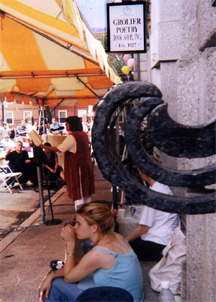 MC READING AT "BLACK JOE'S POND" MARCH, 1996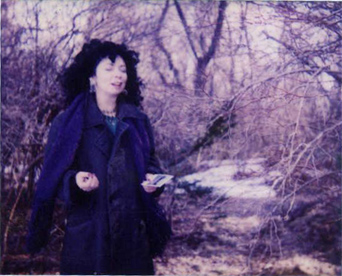 PHOTO BY MARK J. FISHER. THIS WAS OUR FIRST DATE.
DAVID AMRAM & STEVE HEMINGWAY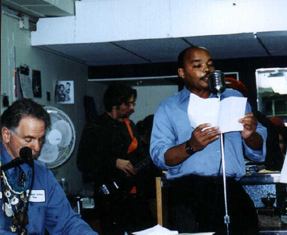 SUGAR SHACK, LOWELL, 1999 PHOTO BY MARK FISHER
The Sugar Shack, Lowell, 1996-Present. On the left M-C projects her verse, above Steve Hemingway reads his poems, accompanied by David Amram. The Annual "Lowell Celebrates Kerouac!" Literary Festival takes place over a 4-day period the first weekend in October to honor Lowell's most famous writer, novelist, essayist, and poet, Jack Kerouac. Each year the city hosts poetry and music performances, readings, & events throughout the city at the Old Worthen Tavern, The Rainbow Cafe and closing out the festival, the Sugar Shack on Sunday afternoon. Kerouac's close friend, colleague and cocreator of their film "PULL MY DAISY", musician/ composer David Amram, hosts the event and jams with the poets.
below: M-C and David Amram at the Rainbow Room, The Kerouac Festival, Lowell, 1999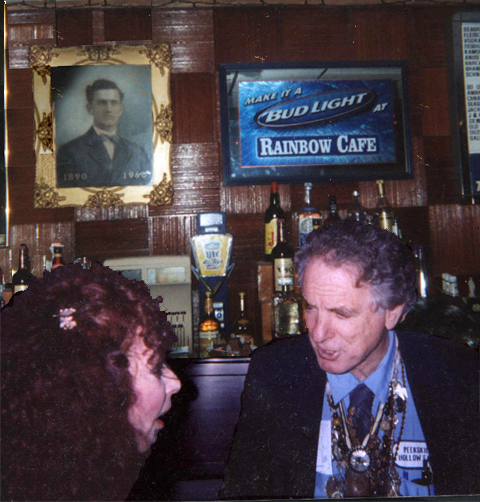 below: David Amram, Compuser/Musician, Jams with Poets at The Sugar Shack, The Kerouac Festival, 1999. David Amram accompanies poet John Sinclair, the most dangerous man in America, the most beautiful delta blues messenger-man!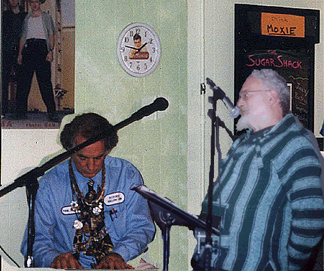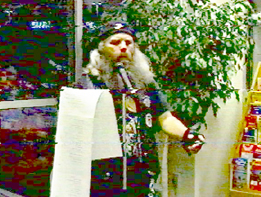 (above) Peddlar, Beat Poet, Performance Poet, & Mad Dog Biker, Peddlar, Borders Books Poetry Reading, 1995
M-C appeared at many readings with Peddlar -- Harvard Undergaduate, creator of Wail! literary journal, host of his own cable TV show, & founder of Poets of the Highway, a biker gang which requires publication as a poet. Here Peddlar reads his passionate poem" What Do I Want? . . . "
" . . . I come to, sort of like,
a jump-start to life;
it's 3:00 in the morning
and I'm standing in front of her door . . .
Well, she opens the door all pissed
and says, "What do you want?".
Not, "How ya' been?"
or, "Where ya' been?" or even
"What happened to ya?". No!
She questions me like I'm a salesman.
What do I want? What do I want?
I think, What is this, a game show?
What do I want? . . .
I want a two-hour headstart
for the Canadian border,
a tankful of gas,
a roastbeef sandwich with pickles,
a new copy of the latest
Easy Rider Rodeo Video . . ."