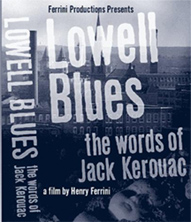 New York State Writers Institute. DOCUMENTARY FILMMAKERS SERIES. 3 Films. LOWELL BLUES (American, 2000, 27 minutes, color and b&w, video) Directed by Henry Ferrini; PULL MY DAISY(American, 1958, 30 minutes, b&w, video) Directed by Alfred Leslie & Robert Frank; THE LAST CLEAN SHIRT (American,1964, 39 min, b&w, video) Directed by Alfred Leslie. Page Hall, 135 Western Avenue (Free and Open to the Public) Click below for more info.

March 20, 2003 (Friday) at 7:00 p.m. Beat Night.
March 24th, 7 pm to Midnight. New York City - Back on the Bowery: 45 Years Later, Keeping the Flame Alive - Amram returns to 1957 neighborhood with poet Lee Ranaldo of Sonic Youth to honor poets and musicians from Iceland and Kentucky - at Bob Holman's new Bowery Poetry Club.
Arts Centers , Institutes, and Theatres
which host Multimedia, Events,
Happenings, Performances, Readings
"Palm Reading by Lisa"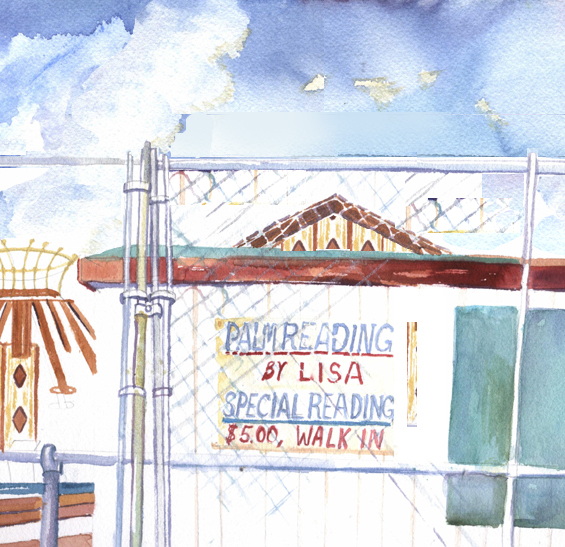 Watercolor by Maryclaire Wellinger, 2002
Art Initiative, Boston. A group of galleries, artists & artist groups working together to promote non-commercial art.
Evos Arts Institute. Restaurant, music, gallery in Lowell, Mass.
Fishtown Artspace. Gloucester, Mass. Shep Abbot, Executive Director. Artistic and musical grass-roots community Art Center for kids and adults who view art as a redemptive force.
Micro Museum, founded in 1986, is an interdisciplinary art center & over 200 working artists in Brooklyn. An archive for videotapes by NYC's finest cutting edge artists.
Zeitgeist Gallery, Cambridge, MA. Music concerts, films, coffeehouse & special events evenings.
Poetry Readings, March 2003
March 5. Eric Bogosian and Jim Carroll. Monday, 8:00pm, St. Mark's Poetry Project, New York City.

Monday, March 10. FRANK BIDART reads his poetry at 8:15 p.m. at the Cambridge Center for Adult Education, 56 Brattle St., Cambridge. Tickets $3; (617) 547-6789 ext. 1.

March 10. Geoffrey G. O'Brien and Sam Truitt. Monday, 8:00pm. St. Mark's Poetry Project, New York City. Geoffrey G. O'Brien's first book, The Guns and Flags Project, came out from The University of California Press in 2002.

Tuesday, March 11. DIANE WALD reads from her The Yellow Hotel: Poems at 6 p.m. at the Boston Public Library, McKim Conference Rm., Copley Sq., Boston. Free; (617) 536-5400 ext. 2212.

March 12. Maxine Chernoff and Paul Hoover Wednesday, 8:00 pm. St. Mark's Poetry Project, New York City. Maxine Chernoff has written six books of poetry and six books of fiction. Her most recent book of poems is World: Poems 1991-2001 from Salt Press in Cambridge, England, and Applecross, Australia.

Thursday, March 13. MARCIA BARTUSIAK reads from her Einsteins Unfinished Symphony: Listening to the Sounds of Space-Time at 5:30 p.m. at the Hayden Library, MIT, 160 Memorial Dr., Cambridge. Free; (617) 253-5249.

March 14. Cave Canem African-American Writers Group Reading. Friday, 9:30pm. St. Mark's Poetry Project, New York City.

March 17. Crystal Williams and Phyllis Wat. Monday, 8:00pm St. Mark's Poetry Project, New York City. A native of Detroit, Michigan, Crystal Williams' work has been published in journals and anthologies including Ms. Magazine, Callaloo, The Indiana Review, American Poetry: The Next Generation and Poetry Nation among others. Phyllis Wat is the author of The Fish Soup Bowl Expedition from Ten Pell Books and Shadow Blue from Hot Water Press.

March 19. Pow-Wow River Poets. Monthly reading at 7:30 pm, the Laura coombs Gallery, Newburyport Art Association 65 Water St. Newburyport, MA 0195

March 19. Lee Ann Brown and Jack Kimball, Wednesday, 8:00pm St. Mark's Poetry Project, New York City. Lee Ann Brown's first full-length collection of poetry, Polyverse (Sun & Moon Press, 1999), won the New American Poetry Series Competition and her second book, The Sleep that Changed Everything, is being published by Wesleyan University Press in spring 2003. During the 1990s Jack Kimball lived in Japan where he initiated several web projects, including Video Tokyo and The East Village. In 2000 he returned to Boston to teach and start Faux Press. His recent books of poetry include Manship, Frosted, Nitric Oxide, and Witness Protection

March 24. Noelle Kocot and Andrew Maxwell. Monday, 8:00pm. St. Mark's Poetry Project, New York City. Noelle Kocot's poems have appeared in The Iowa Review, The American Poetry Review, New American Writing, Fence, Conduit, Lungfull! and many other journals. In 1997 she received the First Annual S.J. Marks Memorial Prize from The American Poetry Review. Andrew Maxwell lives in Los Angeles, where he works as a lexicographer and curates the Poetic Research reading series out of Dawsons Book Shop. He edits The Germ.
My Name
My Address