Study of the Rigging #1, 7" wide x 5" high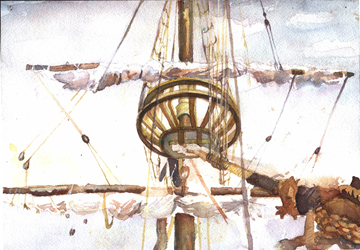 Original Watercolor by Maryclaire Wellinger, 1995
Motoring North on the Hudson River from Manhattan at Dawn. M-C walking on the starboard side going astern to relieve crew at the helm. You can just barely glimpse Bob's head peering throug the "slot" from the "helm house".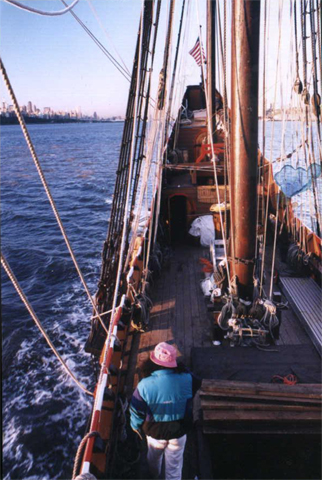 above: The steering mechanism was UNWIELDY, a mammoth-sized "barrel" with a huge "stick"which was actually impossible for me to move; I needed assistance from a second crewmember for my watch. Also, visibility was zero -- I was not tall enough to see out the small slot so a "spotter" had to remain at the bow to shout directions.
below: Half Moon motoring north up the Hudson River. Starboard Bow pointing towards Tappan Zee Bridge.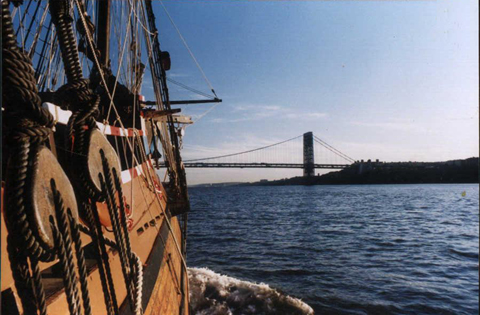 Half of "the whole sick crew". Moored at Half Moon Bay. I forget some names. The Director of the Netherlands Museum which sponsored the building of the "Halve Maen" is at Left, then the Captain, and then my dear friend, Tim Whiting of Marblehead in the Aussie hat, served as Master Rigger, Electrician & Plumber, Navigator, you name it, and then the crewmember at far right is an airline pilot at times.