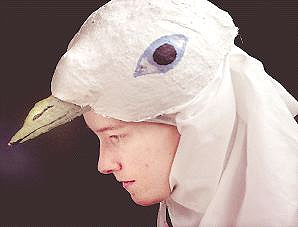 In Memoriam
Rachel Corrie (1982-2003)
Artist and Peace Activist
Student at Evergreen College
Olympia Washington
Killed on Sunday, March 16, 2003
at the age of 21
by an Israeli Army Tank
while defending the home of
a Palestinian family whose house was targeted for destruction. Rachel fell and the Tank driver refused to stop and rolled over her, crushing her and then backed up once again over her body to the horrified shouts of her peace activitist colleagues. This photo was taken on April 18, 2002. Rachel is shown wearing her dove headgear while working on a model of Earth for the eighth annual "Procession of the Species", a community artistic celebration combining art, music and dance to give nature a greater presence on Olympia's city streets.
For more poems against the war, click here to go to the website
begun after the White House cancelled the scheduled Poetry Symposium. But first, read my selection of poems against war, beginning with the Arab poets.
Poem of Exile
by Yousef*
" On the sands of North Africa, I carried palm leaves,
I sailed through ports from the East to exile.
When the policeman stopped me in Burqa
I tore my identification, gave him one half,
and my beloved the other. . ."
*the poet Yousef was born in 1934 in a village in the Basra area of Iraq that over the centuries gave Iraq and the Arab world renowned literary figures. Basra is also the home port of the legendary vagabond sailor, Sinbad. And tradition has it that the city was built near the biblical Garden of Eden.
Exile for Yousef has meant wandering like Sinbad. He has lived in nearly a dozen countries including Algeria, Cyrprus, Jordan, France, Lebanon, Syria, Tunisia, Yemen and finally the United Kingdom, his current home. The poem pritned above is one of his first poems he wrote about exile and describes crossing from Libya into Algeria, where he worked as a teacher for years.
Yousef says, "the poet lives on the road and dies on the road and this is the course taken by all poets whom I respect. If you want to be an artist you should live and die free. The poet is synonymous with freedom."
Yousef is in exalted company among poets who have collided with the Iraqui regime. Mohammed Mahdi al-Jawahiri, among Iraq's best poets, was stripped of his citizenship for attending a poetry festival in Saudi Arabia. Al-Jawahiri died shortly afterward at age 98 in Syria, where he was buried. Abdel Wahab al-Bayati and Buland al Haydari who helped introduce free verse to Arab poetry both recently died in exile.

Women washing their clothes near the oilfields of Basra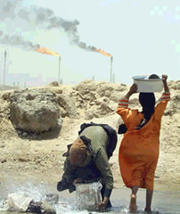 *Poems by Qassim Haddad
Sin 2
When a rag conceals the map
Shame will not do
For all these naked nations.
Sin 3
Oh King
We are your flocks, of whom you boast to the nations.
We are fed up with this glory.
Sin 4
Oh fire Oh queen of time
Where shall I hide you,
while the dry stalk is the ruler of this place?
Space
I don't know how
I sit this way,
my head the hat of the universe and my hands in a frenzy.
I am not tired or sad.
I see whiteness, towers of chaos
I touch the ink, my palms a paradise of speech.
Letters pour over shrapnels of clouds
as prey fall into a trap.
I don't know how
so I begin
I give my body to the silk of surprises,
I succumb, hallucinating shooting stars,
and I follow the reverberation of the angels
as they glorify ambiguity.
I don't kow how
But I beg the Secret to select me as a slave
so I may write, to weave mirrors
and decorate forms for an aged whiteness
in metamorphosis.
Perhaps the dead will rise in their colorful shirts.
Perhaps they will touch their goblets
and exchange toasts in a clamorous morning.
Then the wine loses its strength.
It talks to me like a friend, exhausted from travel
and I know, then, that I was the dream and the dream remained,
I am water in the galaxy of the poem.
The Horses
This is how the horses gallop,
dislodging themselves from the eminence of the carriage
and disturbing the tranquility of the market.
The horses ask the women aabout the sins of the night
and reveal to them the secrets of the rape and the zeal of the sparks.
Mad horses, born out of the lust of the springs,
penetrate the tales of the evening,
seducing the prey, they dlight in sin.
Parts of the body, the radiance of the body:
Horses have manes like hoopoes and horns just as tough.
The churches' addicts and those melded in the clay
of punishment stand terrified.
And when the toast of the wine goblets washes away the attacks,
the horses put their necks on the balcony of the tavern.
Women are free to embrace,
to give the kingdoms offspring from the tyrannical fighters.
Transformations
You still talk irrationally in dangling interpretations.
Your eyes are startled, and mounds of clay have changed you.
You see troops drawing near,
your eyes are startled, and you talk irrationally.
There
He remembers his prison cell with its air hole as if he loves it.
Forgetfulness cannot
tremble in the cage of freedom: o, there
where the Lamptonite horizons include herds of fog,
as if there were freedom there, distant, remote, desirable.
Life is proud of it.
The rulership wouldn't lengthen it,
and there is no hand upon it thin like a blade,
sharp like lightning, towering like the looming of the gods,
his hand in the freedom of creation
grants his dreams through language
and shows mercy in selecting his camel saddles.
*these poems were read by the Bahraini poet Qassim Haddad (1948- )at World Poetry Day, the University of Edinburgh, in 2001, at a gathering of Arab poets in exile. Haddad was imprisoned and tortured for five years for his belief in the need for radical revolution in Arab society in order to achieve freedom and justice. An important figure in the process of modernity, he called for democracy and protested tyranny and oppression. In the poem 'Sin Number Three,' printed above, Haddad voices disgust at oppressive Arab regimes, along with a challenge. Among his contemporaries, Qasim Haddad perhaps best expresses the tragic reality of these psychological and spiritual disturbances. He has rejected this entire age and expresses the bitterness of Arab intellectuals towards their governments, a bitterness mixed with restlessness and disgust. On the horizon, there is only the "guardian dust which writes its false commands." For Haddad, nothing makes sense and all is "tragic." There are no longer bold sailors to save him from drowning in the sea. As he mentioned in his poetry, only his 'hallucinations' have delayed his suicide.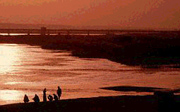 Lament for a Brother
by Al Khanza (590-644)*
What have we done to you, death
that you treat us so,
with always another catch
one day a warrior
the next a head of state;
charmd by the loyal
you choose the best.
Iniquitous, unequalling death
I would not complain
if you were just
but you take the worthy
leaving fools for us.
Fifty years among us
upholding rights
annulling wrongs,
impatient death
could you not wait a little longer?
He still would be here
and mine, a brother
without a flaw. Peace
be upon him and Spring
rains water his tomb
but
could you not wait
a little longer,
a little longer,
you came too soon.
*Al Khanza (590-644) was an Arab poetess who had two brothers.
One was killed in a tribal raid and the other went out to avenge
his death and was himself fatally wounded. Al Khanza refused to be consoled
and one has the feeling she did not want to be. Most of her poems are dirges
and laments for them. Her emotional sinCerity and power come through
1,300 years later. Selected from "Arabic & Persian Poems in English"
by Omar S. Pound, New Directions, New York, 1970.

The Winds of Babylon*
by Gregory Corso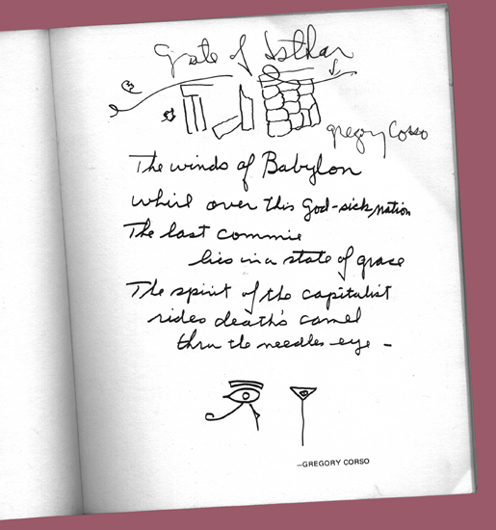 *from "War Poems", edited by Diane Di Prima, Poets Press, Inc., New York City, 1968.
A Curse On the Men In Washington, Pentagon
by Gary Snyder, 1968
from Unicorn Broadsheet One
As you shoot down the Vietnames girls and men in their fields
buning and chopping,

poisoning and blighting,
so surely I hunt the white man down
in my heart,
The crew-cutted Seattle boy
The Portland boy who worked for U.P.
that was me.

I won't let him live, the 'American'

I'll destroy. The 'Christian'

has long been dead.
They won't pass onto my children.
I'll give them Chief Joseph, the Bison herds,
Ishi, sparrowhawk, the Fir trees,
The Buddha, their own naked bodies,
Swimming and dancing and singing
instead.
As I kill the white man,
the 'American'
in me
And dance out the Ghost dance:
To bring back America, the grass and the streams,
To trample your throat in your dreams.
This magic I work, this loving I give
that my children may flourish
And yours won't thrive.

Four Poems by Vietnam War Veterans,
Van Le, Nguyen Duy, and Kevin Bowen
Quan Tri, Viet Nam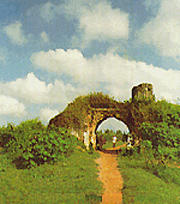 Quang Tri* by Van Le
Everywhere we dug there were white bones.
What could we do? Could we just leave them?
What kind of foundation would they make for our house?
My friends were perplexed. Were they our bones or their bones?
No, I told him, there are no American bones here.

The Americans left years ago and took their bones with them.

These skeletons, scattered all over our land,

Belong only to Vietnamese.
(Quang Tri, 1974, translated by Nguyen Ba Chung with Bruce Weigl)
Red Earth, Blue Water* by Nguyen Duy
Bombs ploughed into the red earth, berry red

Scorching sunlight burned the noon air like kiln fire

Bombs raked funnels turned into rose water wells

A noiseless stream of blue water gushing up

That's our country isn't it friend.

The maddening agony, the honey comes from within.
Oh Stone*
(in place of an afterword)
by Nguyen Duy written in Cambodia, 1989
I stand in meditation before Angkor's ruins;
if stone can be so shattered , what of human life?
Oh stone,
let me inscribe a plea for peace.
In the end, in every war,
whoever won, the people always lost.
Angkor Wat at Sunset
Before Its Destruction by the Pol Pot Regime
Angkor Wat at Sunset Before Its Destruction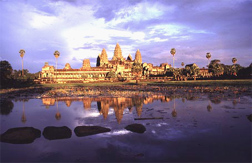 * These three poems are selected from the anthology Mountain River: Vietnamese Poetry From the Wars, 1948-1993. Kevin Bowen, Nguyen Ba Chung and Bruce Weigl, Editors. University of Mass. Press, Amherst, MA, 1998.

Playing Basketball with the Viet Cong*
by Kevin Bowen
You never thought it would come to this,

that afternoon in the war

when you leaned so hard into the controls

you almost became part of the landscape:

just you, the old man, old woman

and their buffalo.

You never thought then

that this grey-haired man in sandals

smoking Gauloises on your back porch,

drinking your beer, his rough cough

punctuating tales of how he fooled

the French in '54,

would arrive at your back door

to call you out to shoot some baskets, friend.

If at first he seems awkward,

before long he's got it down.

His left leg lifts from the ground,

his arms arch back then forward

from the waist to release the ball

arcing to the hoop, one, two . . .

ten straight times. You stare at him

in his T-shirt, sandals, and shorts.

Yes, he smiles. It's a gift,

good for bringing gunships down

as he did in the Delta

and in other places where, he whispers,

there may be other scores to settle.
*from the book, "Playing Basketball With the Vietcong," by Kevin Bowen. Curbstone Press, 1993.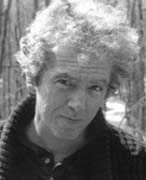 POET AND TRANSLATOR . Kevin Bowen was drafted and served in the U.S. Army in the Vietnam war during 1968-69. He has since returned to Vietnam numerous times and currently serves as Director of the William Joiner Center for the Study of War and Its Social Consequences at the University of Massachusetts-Boston. The Progressive magazine chose Bowen's first book, Playing Basketball with the Viet Cong, a "Pick of the Year." He lives in Dorchester, MA with his wife and two children.

Ante War Blues
by Mark Fisher
it's hotter than a motherfucker here
the tents are sweating

I'm holding a royal flush

in the predawn morning
somewhere east of screaming
Mark Fisher is a collagist, poet, performer, event organizer, bibliophile of twentieth century avant garde literature and art, and a blues scholar. He is married to M-C and together they are part of the INI movement. To see Mark's website, click on:
Great Glacier, Monumental Sculptor!

by Maryclaire Wellinger

Great Glacier,

Eons ago, you sculpted alleuvial marshland

at the confluence of the Tigris and Euphrates

where Marsh Arabs have lived for 3,000 years,

where women still wash clothes on riverstones.

Great glacier--oh, monumental sculptor--

you gave to the birds this gift,

their greatest fly-over for all Eurasia.

In the name of the pelican, egret and flamingo,

spare the alleuvial marshland from imminent war,

with its heartless bombs, its depleted uranium,

its killing spills of chemicals and oil.

If it's too late to teach these men-of-war

who love their "power over"

that we are all a part of Nature,

then crush them with your monumental weight

before the spoiled alleuvial marshland's impending death.

Great glacier, crush those who aim to fly

through Nature's stratosphere

above the bleeding, draining marshy ground

and with massive ordinance

suck out Nature's very breath.

Let the Millenium be a time once again

when we can go down to the Marshland

to harvest the strong papyrus reed

and build a sailing vessel, seaworthy and sound.

Warrior

by Ai*

You sharpen the tip of spear

with your teeth,

while your wife plows the ground

with jawbone of an ox.

She is a great, black fire.

The old blood is drifting up your throat

and the witch-men sing all night

of melon-breasted women in rival villages,

but the spear is wilting in your hands.

When you are standing in the river,

you grab a fish,

tear its flesh open with your teeth, and hold it,

until the bones in your fingers break up

and fly about you like moths.

The river, a fish, your fingers, moths,

the war song churning in your belly.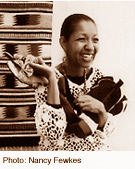 left, the poet Ai
*from her book Cruelty: Poems by Ai,
Houghton Mifflin Company, Boston, 1973
Ai's first book, Cruelty, received critical acclaim when it was published in 1973. Her second book, Killing Floor, was the 1978 Lamont Poetry Selection of the Academy of American Poets. Her next book, Sin (1987), won an American Book Award from the Before Columbus Foundation and was followed by Fate in 1991. In 1999 Vice was the winner of the National Book Award for Poetry. Ai is a native of the American Southwest and lives in Tucson, Arizona. In the year 2002-2003 she will hold the Mitte Chair in Creative Writing at Southwest Texas State University.