M-C is a poet and painter, and sailor. Her poetry and paintings interweave nature, memory, and myth.
Her major poetic work is " Black Joe's Pond," a collection of narrative poetry emerging from the lives of Lucretia and Joseph Brown, African-Americans whose tavern in Marblehead, MA (1794-1845) was a gathering place for North Shore blacks and Marblehead fisherfolk. This work received a Massachusetts Cultural Arts Grant, and the Chapbook is available to order from Rosewater Press on this website.
M-C studied poetry with poets Lloyd Schwartz, Ruth Whitman, and Frank Bidart. After completing her literary studies with Bidart ,at Wellesley College in 1982, M-C developed a substantial repertoire of performance poetry, and has performed in the New York and Boston areas, often collaborating with jazz or classical musicians, including composer/musician David Amram. On rare occasions, she has performed cut-up poems with a group of "noise art" musicians under the direction of Walter Wright, a cutting edge video artist, who refers to himself as a "Video Shredder."
In May of 1997, M-C was chosen to read at the Grolier Annual Spring Poetry Festival at Harvard University. In 1999, Maryclaire publishd her poem "In Dreams I Marry Moses Woodfin," and her painting "Nightfishing" in BOOGLIT, a New York literary journal. Both the poem and painting appear on this website.
Recently, M-C became a member of the Italian avant garde movement, INI -- Infinitesimal Novatrix Internazionale. M-C's digital collage, "INI On Wheels," is the cover illustration for the October 2002 issue of its literary journal BERENICE. M-C's development as a visual artist evolved from her work as a poet. She studied drawing and watercolor painting intensively for seven years with artist Ronald Kulloway of Newburyport, MA. Ron was a protege of Bauhaus master Josef Albers at Yale University, and M-C is inspired by this significant artistic lineage. Over the past two years, she has begun working in oil painting.
M-C illustrates her poems with her own watercolor paintings or digital collages which emerge in book form and she prints as limited editions with her own press, "Rosewater Press." Both her poetry and painting are informed by her experience as a sailor on antique sailing vessels, and she has crewed as Ship's Cook & Ship's Artist aboard the "Halve Maen," a replica of Henry Hudson's 1604 vessel.
M-C engaged in a major collaborative project in 2000 and 2001, the creation of an opera and dance drama. "Gift of Vision", the life of luminist painter, Fitz Hugh Lane (1804-1865). Working with with musician/composer Jeffry Steele, and dancer/ choreagrapher Carl Thomsen, M-C wrote the libretto for five voices driven by the fulcrum of Jeffrey's classical guitar, the solo instrument accompanying the choir's voices. Referencing the work of Gloucester poet Charles Olson, art historian John Wilmerding, and historian Erik K. Ronnberg, M-C created a libretto of lucid and eloquent poems which evoke the rich maritime history of Gloucester. This ambitious multimedia opera and dance drama was enhanced by the visual projection of Lane's paintings onto the stage by sculptor and video artist Bruce Bemis. So that the paintings came to life. During the writing of the Libretto, M-C also worked in her painting studio, creating original watercolor studies of Lane's oil paintings. These paintings are available as prints for sale, and the Libretto chapbook which emerged is also for sale on this website.
M-C's ongoing projects continue to be a further exploration of INISMO, and digital collage work, and developing her books arts skills, work in the oil painting medium, and a more urgent pursual of publishing individual poems. M-C is currently engaged in a search for a publisher for her "Black Joe's Pond," manuscript.
In her painting studio, wallpapered in her most recent paintings, the surrealist lens manifests itself in many images -- a striking, palpable presence. An antique ship leans againt the Baptist Church on Pleasant Street in Old Town. Figures from childhood, represented as two small girls, one blonde, one dark-haired, appear in unlikely places -- on a rooftop on Mugford Street next to a chimney or on the beach with their mother and Aunt, dressed in formal Sunday clothes with maryjanes and gloves. Sometimes they levitate past the eaves of antique houses or find themselvs at a carnival on a surreal New England beach. M-C continues to work on a series of paintings which take place on the Martian landscape, with her family of origin cooking on their barbecue grill in formal church clothes, with the Voyager landing vehicle sitting in the foreground.
Projects in various mediums, including publications,

Chapbooks, Foundation Grants, Readings, Performances
1992. M-C Receives a Mass Cultural Arts Grant for her work-in-progress, "Black Joe's Pond," a collection of narrative poems emerging from the lives of Lucretia & Joseph Brown, free blacks who in 1794 established a tavern, a gathering place for North Shore blacks and fisherfolk of Marblehead, MA. M-C illustrates this work with her own paintings.
1993-Present. Creates Rosewater Press to publish her own chapbooks, including "Black Joe's Pond". Available here for $25.
March, 1993. Performs "Black Joe's Pond" for the Multicultural Alliance's "Under One Canopy," featuring herself, Brother Blue, Mad-Dog Biker & Beat Poet Peddlar with host Steve Hemingway.
1991-1998. Studies drawing and painting with master painter, Ronald Kulloway and creates paintings to illustrate her poems.
May 1996. Invited reader, Harvard University's Annual Spring Poetry Festival.
1996-1999. Cofounds band of poets known as "The INVISIBLES" with Mark J. Fisher, Peddlar, Steve Hemingway and others who perform in the Boston area.
October, 1999. Organizes with Mark the avant garde poetry, theatre, music & performance-video event AZTEC RADIO starring John Sinclair, David Amram, Elliot Katz, other New York poets, M-C & video shredder Walter Wright.
October 25, 1999. Performs with musician/composer David Amram at the Oasis Lounge, the East Village, for the event SAFE IN HEAVEN DEAD.
Jan 2000-Jan 2001 collaborates closely with composer Jeffrey Steele and Choreagrapher Carl Thomsen in their Gloucester studios to create on original opera and dance drama based on the life of Fitz Hugh Lane, the first "luminist". M-C writes the libretto in poetry for four operatic voices and in her own painting studio renders many paintings in watercolor, studies of Lane's oil paintings.
Jan-Feb 2001. M-C's opera and dance drama, "GIFT OF VISION: THE LIFE & WORK OF FITZ HUGH LANE (1804-1865)" is produced in 6 sell-out perform-ances in Gloucester, MA.
Jan-Feb 2001. MC's Rosewater Press publishes original libretto as a chapbook, illustrated with her own watercolour paintings, studies of Fitz Hugh Lane's luminist oil paintings. Available here for $25.

2001-2002. M-C becomes part of the Italian avant garde movement, "INI."

Oct 2002. M-C's digital painting, INI ON WHEElS is the cover illustration for "BERENICE", an Italian biannual academic literary journal.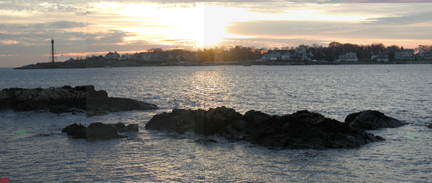 Sunrise, Marblehead Harbor Looking towards the Lighthouse and Marblehead Neck
November, 2002