THE MERRY MONTH OF MAY
by: Thomas Dekker
THE month of May, the merry month of May,

So frolic, so gay, and so green, so green, so green!

O, and then did I unto my true love say,

Sweet Peg, thou shalt be my Summer's Queen.

Now the nightingale, the pretty nightingale,

The sweetest singer in all the forest quire,

Entreats thee, sweet Peggy, to hear thy true love's tale:

Lo, yonder she sitteth, her breast against a brier.

But O, I spy the cuckoo, the cuckoo, the cuckoo;

See where she sitteth; come away, my joy:

Come away, I prithee, I do not like the cuckoo

Should sing where my Peggy and I kiss and toy.

O, the month of May, the merry month of May,

So frolic, so gay, and so green, so green, so green;

And then did I unto my true love say,

Sweet Peg, thou shalt be my Summer's Queen.
'The Merry Month of May' was originally published in The Shoemaker's Holiday (1600).
MORE POEMS BY THOMAS DEKKER
*
Six Sonnets by Shakespeare
from the 1609 Quarto Version
18
S
Hall I compare thee to a Summers day?
Thou art more louely and more temperate:
Rough windes do hake the darling buds of Maie,
And Sommers leae hath all too horte a date:
Sometime too hot the eye of heauen hines,
And often is his gold complexion dimm'd,
And euery faire from faire ome-time declines,
By chance,or natures changing coure vntrim'd:
But thy eternall Sommer hall not fade,
Nor looe poeion of that faire thou ow't,
Nor hall death brag thou wandr't in his hade,
When in eternall lines to time thou grow't,
So long as men can breath or eyes can ee,
So long liues this,and this giues life to thee,
123
N

O ! Time, thou halt not bot that I doe change,
Thy pyramyds buylt vp with newer might
To me are nothing nouell,nothing trange,
They are but dreings of a former ight:
Our dates are breefe,and therefor we admire,
What thou dot foyt vpon vs that is ould,
And rather make them borne to our defire,
Then thinke that we before haue heard them toulde:
Thy regiters and thee I both defie,
Not wondring at the preent,nor the pat,
For thy records,and what we ee doth lye,
Made more or les by thy continuall hat:
This I doe vow and this hall euer be,
I will be true dipight thy yeth and thee.
105
L
Et not my loue be cal'd Idolatrie,
Nor my beloued as an Idoll how,
Since all alike my ongs and praies be
To one,of one,til uch,and euer o.
Kinde is my loue to day,to morrow kinde,
Still contant in a wondrous excellence,
Therefore my vere to contancie confin'de,
One thing expreing,leaues out difference.
Faire,kinde,and true,is all my argument,
Faire,kinde and true,varrying to other words,
And in this change is my inuention pent,
Three theams in one,which wondrous cope affords.
Faire,kinde,and true,haue often liu'd alone.
Which three till now,neuer kept eate in one
119

L
Et me not to the marriage of true mindes
Admit impediments,loue is not loue

Which alters when it alteration findes,
Or bends with the remouer to remoue.
O no,it is an euer fixed marke
That lookes on tempets and is neuer haken;
It is the tar to euery wandring barke,
Whoe worths vnknowne,although his higth be taken.
Lou's not Times foole,though roie lips and cheeks
Within his bending ickles compae come,
Loue alters not with his breefe houres and weekes,
But beares it out euen to the edge of doome:
If this be error and vpon me proued,
I neuer writ,nor no man euer loued.
91

S
Ome glory in their birth,ome in their skill ,
Some in their wealth, ome in their bodies force,

Some in their garments though new-fangled ill:
Some in their Hawkes and Hounds,ome in their Hore.
And euery humor hath his adiunct pleaure,
Wherein it findes a ioy aboue the ret,
But thee perticulers are not my meaure,
All thee I better in one generall bet.
Thy loue is bitter then high birth to me,
Richer then wealth,prouder then garments cot,
Of more delight then Hawkes or Hores bee:
And hauing thee,of all mens pride I boat.
Wretched in this alone,that thou mait take,
All this away,and me mot wretched make.

23

A
S an vnperfect actor on the tage,
Who with his feare is put beides his part,

Or ome fierce thing repleat with too much rage,
Whoe trengths abondance weakens his owne heart;
So I for feare of trut,forget to ay,
The perfect ceremony of loues right,
And in mine owne loues trength eeme to decay,
Ore-charg'd with burthen of mine owne loues might:
O let my books be then the eloquence,
And domb preagers of my peaking bret,
Who pleade for loue,and look for recompence,
More then that tonge that more hath more expret.
O learne to read what ilent loue hath writ,
To heare wit eies belongs to loues fine wiht.
from The First Part of King Henry the Fourth , Act IV. Scene I, The Rebel Camp near Shrewsbury



"All furnishd, all in arms,

All plumd like estridges that wing the wind,
108
Baited like eagles having lately bathd,
Glittering in golden coats, like images,
As full of spirit as the month of May,
And gorgeous as the sun at midsummer,
112
Wanton as youthful goats, wild as young bulls.
I saw young Harry, with his beaver on,
His cushes on his thighs, gallantly armd,
Rise from the ground like featherd Mercury . . ."
Shakespeare's Sonnets - With Historial Notes and Commentary
Shakespeare & Company, Lenox, Massachusetts. Celebrating in 2004 ts 24th Season.
"FEMALE RECLINING", INK ON RICE PAPER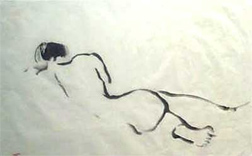 YURIKO KITAMURA
Four fragments of poems
by Sappho
#6

I confess

I love that

which caresses

me. I believe

Love has his

share in the

Sun's brilliance

and virtue.

#7

At noontime

When the earth

is bright with flaming

heat falling straight down

the cricket sets

up a high-pitched

singing in his wings

#8

I took my lyre and said:

Come now, my heavenly

tortoise shell: become

a speaking instrument

#9

Although they are

Only breath, words

which I command

are immortal